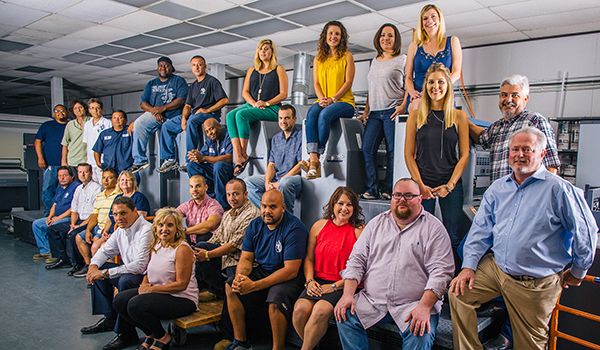 "Do it fast, and do it right."
When Bob Thomas founded his graphics and printing company in 1982, all he had were these words to live by. He certainly didn't have any money. Bob was 24 years old and had been turned away by every banker in town. But that didn't stop him. 
Beginning with borrowed time on a friend's printing press, Bob lived up to his motto; receiving an order one day and delivering the next. Six months later, he had his own press and 400 square feet of shop space--- albeit without air conditioning.
With that one-color duplicator press, he hired a pressman. But Bob usually had more work than an eight hour day could handle, so when the pressman's shift ended, Bob would take over and print well into the night. In his first year, he generated sales of $150,000. By 1984 he had doubled that figure, and the following year purchased a second, (two-color) press, expanded into a 4000 square foot warehouse, and reached sales of $400,000.
As the slumping national economy exacted a toll on Texas, some larger Austin area printers were forced to close. But by staying true to his philosophy, Bob had developed a loyal client base which saw him through the economic downturn. As a result, Thomas Graphics, even during a recessionary economy, continued its remarkable growth with sales for 1986 topping the one million dollar mark.
Fast forward to the present day, where Bob's philosophy of quick turnaround, high quality, and personable service, has made Thomas Graphics an $11 million business, annually recognized as one of the fastest growing companies in Austin. Located in their own 28,000 square foot facility, Thomas Graphics boasts ten state-of-the-art presses (including digital pre-press), and a staff of 62. The company provides graphics services and printing from one color business cards for small businesses to six color annual reports for multinational corporations. And while Thomas Graphics continues to grow and add new clients, they still retain the loyalty of their longtime customers, which in turn, can reap impressive dividends. As a matter of fact, one of Bob's first sales, political print work for Rove & Co., a consulting firm, eventually led to printing for the election campaign of President George W. Bush.
So what began as a "kitchen table venture" without any assets or equipment, has grown into a multi-million dollar company, with a reputation firmly established in the marketplace. Thomas Graphics is big enough to handle the demands of corporate clients and headliners, yet still committed to fast, professional, personal service. In other words, they're always prepared to meet the needs of today's small business men and women as well. And as Bob Thomas charts the future of his company, he needs only to reflect on the past for the key to continued success:
"Do it fast, and do it right."